Reviews
Privacy
Your Email Address & Other Personal Information We don't share (give or sell) your email address or other personal information with anyone unless we have your explicit permission.
BUSINESS OWNERS THAT USE LOCALS.REVIEWS
We require businesses to adhere to this privacy policy in order to use our program.
SPAMMING YOU?
Nope. We won't be sending you a bunch of emails that you don't want and did not request.
Terms of Use
As a local customer, you may freely use the Local's Reviews program as often as you like. By using this platform, you are agreeing to the following:
You will provide objective, informative, and honest feedback for the business. Keep in mind that this information is being read by the business owner as well as other locals that may be considering doing business with them.
You will refrain from abusive language or name calling.
You understand that local consumers will be reading your feedback that you have provided for the business so you may address them as well.
You will be "scoring" the business between 1 and 10 points (NPS or Net Promoter Score), which will be converted to 1 to 5 stars.
Your feedback may be posted publicly on the Local's Reviews website, the Local Business' website or social media pages and may also be used in print media or other marketing pieces or platforms.
If you check the box [Make my feedback private. DO NOT publish as a review.], your Feedback will NEVER be displayed publicly. Businesses that use this platform CANNOT override it.


We're sorry we blew it! We do our best to provide good services and we would like to get in touch with you to see how we can make things right.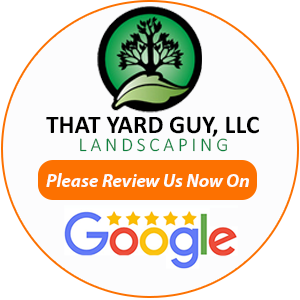 Google Reviews
Adam and his crew completely transformed all 360 degrees of my garden! The terraces are beautiful and allow me to easily walk around every area. An additional bonus - I always have somewhere to sit, to admire the view or to do some planting! I recommend That Yard Guy to family and friends. Cedar Brook Installation.
-Sandra Boren
We've have worked with That Yard Guy for several years and have been very impressed. He really listens to what we want, asks questions and gives advise. He's very knowledgeable about landscaping and continues to help us maintain our yard and keep it healthy.
-Mike Bare
I have been using That Yard Guy for about 3 years for spreading beauty bark, raking beds, planting trees, and other various projects. Adam and his crews always get the job done correctly, on time, and at a very fair price.
I would recommend them to anyone that needs weekly lawn care or a special project done.
-Bob Foster
They have excellent customer service, are very dedicated and reasonably priced. Adam does exactly what he says he will do the first time, and it's always been high quality work.
-Shannan King
He and his employees do a very good job. They often go beyond what the task calls for to help.
-Esther Redgrave
Facebook Reviews
Adam Piceno with That Yard Guy is a very dependable, hardworking young man. He is pleasant and knowledgeable. We appreciated his recommendations for the project and we are very pleased with how it looks.
-Michelle Menchaca
Professional, honest, well mannered, dependable and very knowledgeable.
-Vass Shantalov
WONDERFUL TO WORK WITH!! After 5 years of neglect, Adam has transformed the yard back to it's former beauty. He listens to my vision for the yard, makes suggestions, and works to save many of the existing plants. I am not a gardener, but Adam has been teaching me about the needs of the many varieties of plants in the yard. It has been so refreshing to have someone who talks to me and gives me options.
-Ally Nel